Websites for Biz : Should I Invest?
October 8 @ 8:30 pm

-

10:00 pm

Free – RM20.00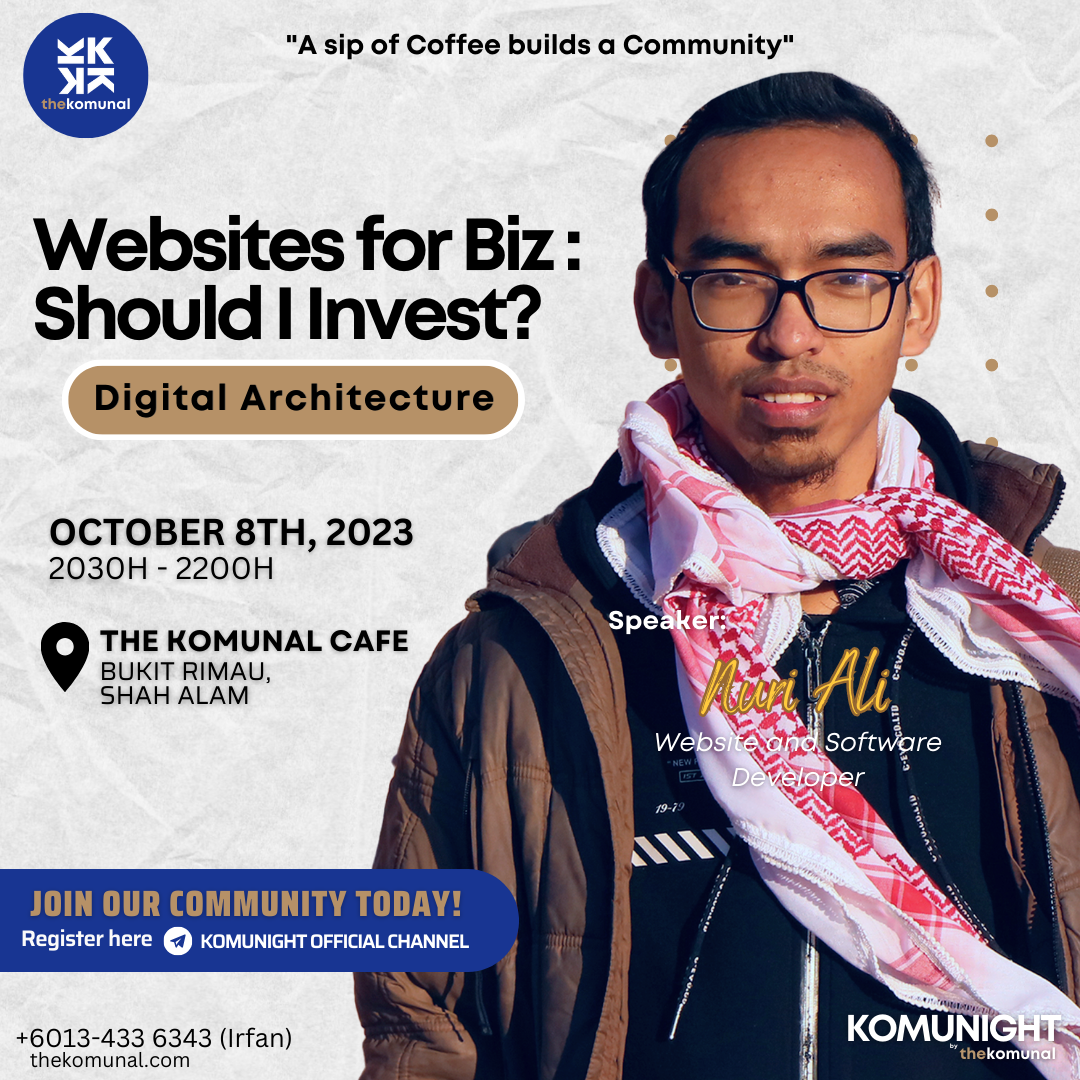 Having a website for business marketing helps to generate leads and increase the sales of your products. But does it worth the investment of your company?
Reveal the truth through our Komunight Session!
What you will learn during our 2 hour Freemium session?
✅ Things to consider before investing for website development!
✅ Big Impacts of developing a website for business
This is your time grow your business!
📅 Sunday, 8th October 2023
⏰ 2030H – 2200H
☕️ Komunal Cafe, Bukit Rimau
🌎Maps: https://rb.gy/4xddk
50 LIMITED SEATS ONLY!!
Book a seat for you and your friends now!
.
.
.
Event Terms and Conditions: Minimum Beverage Purchase
1. Acceptance of Terms:
By reserving a ticket to our Komunight Event, you agree to comply with these terms and conditions. If you do not agree with any part of these terms, you may not attend the Event.
2. Minimum Beverage Purchase:
In order to enhance the overall experience of the Event, each attendee is required to purchase a minimum of one (1) drink or beverage during the course of the Event.
3. Beverage Options and Pricing:
A variety of beverages will be available for purchase at the designated beverage counters. The prices of the beverages will be clearly displayed, and attendees are responsible for the cost of their chosen beverages.
4. Payment Method:
All beverage purchases must be made using the designated payment method(s) accepted at the Event venue. Cash and major credit/debit cards may be accepted, and details will be communicated on-site.
5. Exemptions:
Attendees who are unable to consume beverages for health or religious reasons may request an exemption. Such requests must be made in writing to the event organizers at least 3 days prior to the Event, and approval will be granted at the sole discretion of the organizers.
6. Right to Refuse Service:
The Event organizers reserve the right to refuse service to any attendee who fails to comply with the minimum beverage purchase requirement or who engages in inappropriate behavior.
7. Compliance with Laws:
All attendees must comply with local laws and regulations regarding the consumption of alcoholic beverages. The organizers are not responsible for any consequences resulting from non-compliance.
8. Changes to Terms:
The Event organizers reserve the right to modify these terms and conditions at any time. Any changes will be communicated to attendees through the official event website or other appropriate channels.
9. Contact Information:
For any questions or concerns regarding these terms and conditions, please contact Komunight Operation Team, Alif Irfan at +60134336343